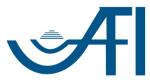 Association of Food Industries
Association of Food Industries encourage free and fair trade.
Contact - Association of Food Industries
3301 Route 66, Ste. 205, Bldg. C
Neptune NJ 07753
United States
Send a message - Association of Food Industries
Legal information - Association of Food Industries
| | |
| --- | --- |
| Nature | Head Office |
| Year established | 1906 |
| Describe your Company and attract Business opportunities (SIC87) | Real Estate Agents and Managers (6531) |
| No employees (address) | 2 Employees |
| No employees | 7 Employees |
| Kompass ID? | USN00821410 |
| Kompass member for | + 2 years |
| Membership | Booster |
Presentation - Association of Food Industries
The Association of Food Industries Inc. is committed to developing programs that facilitate the business of its member companies, encourage free and fair trade, and foster compliance with US laws and regulations. Whether you're looking for answers to government regulations, food standards, statistical data or just need help keeping up with the rapid pace of industry changes, AFI is here for you. Actively learning, participating in association activities and taking advantage of AFI's benefits will keep you abreast of the latest food industry developments. AFI proactively monitors regulatory changes affecting the food import trade. AFI also holds an annual convention and meetings filled with important information and excellent networking opportunities.
Company catalogues - Association of Food Industries

AFI Specifications For Shelled Brazil Nuts (English)
2 pages

AFI Specifications For Shelled Hazelnuts (Filberts) (English)
2 pages

AFI Specifications For Turkish Dried Apricots (English)
2 pages
General Information - Association of Food Industries
Brands - Association of Food Industries
News - Association of Food Industries
Participate in an event
AFI Offers FSVP Training Courses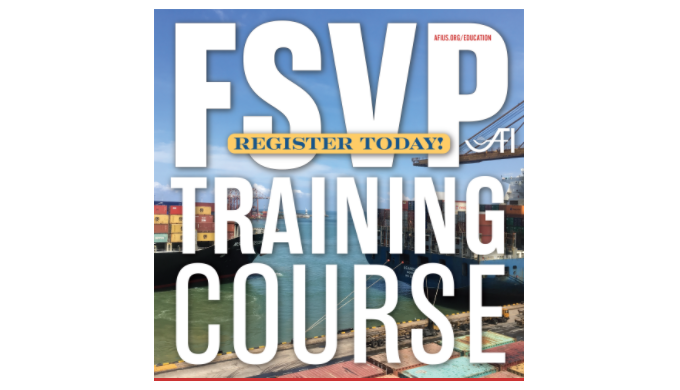 Date: June 17, 2020 4:00 AM
End: June 19, 2020 3:59 AM
Location: ONLINE ZOOM
AFI Offers FSVP Training Courses
2020 Course Dates Below!
The United States requires food exported to the U.S. to meet U.S. food safety requirements.
The Food Safety Modernization Act states importers are responsible to ensure the food they import meets U.S. regulations through a Foreign Supplier Verification Program.
AFI President Bob Bauer served on the task force that developed the standardized curriculum recognized by FDA and is an FSVP Lead Instructor.
His work on the task force, understanding of the food import industry and experience in conducting numerous sessions of this course since it was ready in early 2017 make AFI's offerings a valuable experience for attendees from all sectors.
The FSVP course is a two-day course that takes participants through the FSVP requirements and includes exercises to help them develop their company's program.
Attendees receive a certificate upon completion of the course but must attend the entire program to receive the certificate.
New 2020 Dates Announced!
You'll Get Help to:
Understand the underlying purpose of the Foreign Supplier Verification Programs (FSVP) rule
Identify what's needed in your FSVP
Develop your FSVP
Implement your FSVP
Implement a compliant recordkeeping system
Understand how FDA will oversee your FSVP
Participate in an event
News from the Association of Food Industries June, 2020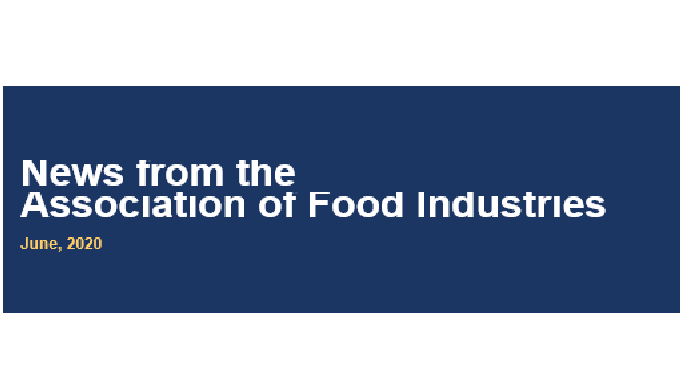 Date: June 1, 2020 4:00 AM
End: July 1, 2020 3:59 AM
News from the
Association of Food Industries
June, 2020
PRESIDENT'S REPORT
The response continues to be quite good for AFI's Tuesdays at Two webinar series. To date, the free (thanks to our sponsors) webinars have featured presenters who were scheduled to speak at the canceled AFI Convention.
Now that we've featured all the convention speakers, we're moving on to other speakers and topics. This coming Tuesday I'll cover the FDA facility registration process. We encourage foreign members to participate and suggest domestic members participate and encourage their suppliers to get the webinar details at
www.afius.org
. The registration process and the renewal process for those registrations are among the easiest parts of FSMA compliance, yet some companies try to scare people throughout the industry into paying a lot of money to file a new registration when their existing one is perfectly valid. So, listen in next Tuesday to get the true scoop on FDA registration and renewal.
We want to make certain the webinar series continues to address areas of concern for AFI members. If you have a potential topic for a webinar, please reach out to AFI Vice President Erin Jordan at
Erin@afius.org
.In This Issue:
U.S. Investigating Digital Tax Polices of Several Countries; Could Lead to New Tariffs
WTO Decision on Boeing Delayed
NAOOA Files Petition for Olive Oil Standard of Identity
FDA Allows Temporary Labeling Flexibility for Vending Machine Products
FDA Continues to Issue FSVP Warning Letters
FDA Extends VQIP Deadline
Tuna Quota Set
State Files Suit on Tuna Issue
FDA Amends Temporary Labeling Permit for Tuna
CBP Proposing Changes to Broker Regulations
AFI Members Get Discounts at Lenovo
U.S. Investigating Digital Tax Polices of Several Countries; Could Lead to New Tariffs
The Trump administration announced June 2 a new Section 301 investigation into digital services taxes adopted or under consideration by Austria, Brazil, the Czech Republic, the European Union, India, Indonesia, Italy, Spain, Turkey and the United Kingdom. This investigation could result in tariffs or other restrictions on imports from these trading partners if consultations do not yield a successful resolution. Comments on this investigation are due by July 15.
DSTs are taxes on revenues generated from providing digital services to or aimed at users in the subject jurisdiction. According to the Office of the U.S. Trade Representative, evidence suggests DSTs are expected to target large, U.S.-based tech companies.
In its investigation USTR will determine whether DSTs that have been or might be imposed by the above countries and blocs are actionable under Section 301 and, if so, what action to take. The investigation will initially focus on concerns that the DSTs may discriminate against U.S. companies, be retroactive and diverge from norms reflected in the U.S. and international tax systems with respect to extraterritoriality, the taxation of revenue instead of income and the apparent penalization of particular technology companies for their commercial success.
USTR is seeking public input by July 15 on these and other issues, including the extent to which the DSTs burden or restrict U.S. commerce, whether the DSTs are inconsistent with obligations under the World Trade Organization Agreement or any other international agreement and what action (if any) should be taken.
In 2019, the USTR concluded that a French DST discriminates against U.S. companies and in turn proposed the imposition of additional tariffs of up to 100 percent on products from France that are drawn from a preliminary list covering products such as yogurt, butter and cheese. However, no action has yet been taken, apparently because France agreed to suspend its collection of the DST until the end of 2020 to give the Organization for Economic Cooperation and Development time to conclude an international agreement on digital taxes.
WTO Decision on Boeing Delayed
Some disappointing news on the EU tariff dispute front. Citing complexities related to COVID-19, the World Trade Organization recently announced an indefinite delay in its determination of the amount of damages in the Boeing subsidies case. Most think a decision, which was expected by now, will help lead to a settlement between the U.S. and EU. However, since the U.S. is already able to impose tariffs related to Airbus subsidies provided by the EU and the EU isn't able to impose tariffs until this determination is made, the U.S. has a lot of leverage and no incentive to settle.
The North American Olive Oil Association, a section of AFI, is working with counsel to circulate across multiple industries a letter – on a state-by-state basis – opposing the tariffs. Letters for Maine and Oregon have been completed, submitted to congressional delegations and received mention in the press.
AFI domestic members who would like to support
the letter
opposing the tariffs are asked to respond to
info@afius.org
and list the state or states where you have facilities/personnel. Please encourage others, such as your customers and service providers, to sign on as well.
NAOOA Files Petition for Olive Oil Standard of Identity
The NAOOA filed a petition requesting FDA to adopt the standard of identity for olive oil that's included in the petition. The association, which was formed as a section of AFI in 1989, has made a standard of identity a priority since its inception. Two earlier NAOOA petitions were not acted on by the agency.
A standard of identity would help consumers better understand olive oil labeling and would help the agency and the industry address adulteration and quality issues. We hope AFI members will, when asked, submit comments in support of the petition.
FDA Allows Temporary Labeling Flexibility for Vending Machine Products
FDA issued a guidance document to provide additional temporary flexibility in labeling requirements to manufacturers and vending machine operators. The goal is to provide regulatory flexibility, where appropriate, to help minimize the impact of supply chain disruptions on product availability associated with the COVID-19 pandemic.
Entitled "
Temporary Policy Regarding Certain Food Labeling Requirements During the COVID-19 Public Health Emergency: Minor Formulation Changes and Vending Machines
," this guidance is one of several the FDA has issued to provide temporary flexibility to the food industry to help support the food supply chain and meet consumer demand during the pandemic.
In general, the guidance provides flexibility for manufacturers to make minor formulation changes in certain circumstances without making conforming label changes, such as making a change to product ingredients, without updating the ingredient list on the packaged food when such a minor change is made. The guidance also provides examples of existing flexibilities in food labeling regulations so that manufacturers know these are already available. One example is the flexibility to exchange spices when the label declares the generic term "spice."
FDA also is providing temporary flexibility to the vending machine industry and will not object if covered operators do not meet vending machine labeling requirements to provide calorie information for foods sold in the vending machines.
Other temporary flexibilities that FDA has issued address
nutrition labeling on food packages
,
menu labeling
,
packaging and labeling of shell eggs
and the
distribution of eggs to retail locations
.
FDA Continues to Issue FSVP Warning Letters
FDA continues to issue warning letters to importers (more than 20 this year) concerning noncompliance with requirements under the Foreign Supplier Verification Program regulation. The FSVP rule requires importers to verify the human food they import has been produced in a manner that meets applicable U.S. food safety standards.
Do you know FSVP? There's never been an easier time to take the course with the FDA-recognized curriculum. For a limited time – due to the COVID-19 lockdown – the FSVP course is available online. AFI's prices for the course are significantly lower than what others charge and we're able to offer the online version for only $200 per person for AFI members. Both upcoming sessions are filling up. We encourage members to get as many employees trained as possible and to take advantage of the limited-time online training opportunity. Get the details at
www.afius.org
.
FDA Extends VQIP Deadline
FDA extended the application period to July 31 for importers to submit their application for the
Voluntary Qualified Importer Program
for the Fiscal Year 2021 benefits period, which begins Oct. 1.
FDA said it extended the deadline because travel restrictions for the pandemic have hindered the ability of accredited certification bodies to conduct onsite regulatory audits and issue certifications to foreign entities, which are required as part of the VQIP application.
VQIP is a voluntary, fee-based program established by the Food Safety Modernization Act that provides expedited review and importation of human and animal foods for approved applicants who achieve and maintain a high level of control over the safety and security of their supply chains. To participate, importers must meet certain eligibility criteria, which include ensuring that the facilities of their foreign supplier are certified by a certification body that's been accredited through FDA's
Accredited Third-Party Certification Program
.
Tuna Quota Set
CBP determined that 15,881,292 kilograms of tuna (up from 14,945,117 in 2019) may be entered or withdrawn from warehouse for consumption during the period Jan. 1 through Dec. 31, 2020, at the 6-percent duty rate under HTSUS 1604.14.22. Excess amounts will be dutiable at a rate of 12.5 percent under HTSUS 1604.14.30.
State Files Suit on Tuna Issue
The state of Washington filed a lawsuit alleging a three-company price-fixing scheme between 2004 and 2015 cost Washington residents at least $6 million by artificially driving up the cost of canned tuna. As an example, the lawsuit said a resident ordinarily paying $1 for a can of chunk light tuna might have paid $1.08 under the scheme.
Washington is the first state seeking compensation after a U.S. District Court judge in December imposed a $100 million fine against StarKist — the maximum allowable under federal law – for its role in the scheme. Bumble Bee had already paid a $25 million fine in 2017 because the company was judged to be in a rougher financial state — it has since sought bankruptcy protection — and faced additional lawsuits from Walmart and other supermarkets and customers.
Pittsburgh-based StarKist and South Korean parent company Dongwon Industries became ensnared in a larger Department of Justice price-fixing investigation after Thai Union Group Chicken of the Sea tried to purchase Bumble Bee in 2015. At the time, whistle-blowers from inside Chicken of the Sea's executive ranks alerted federal investigators to a price-fixing scheme involving hundreds of millions of dollars alleged to have occurred nationwide between the three conglomerates controlling roughly 80 percent of the nation's tuna market.
Chicken of the Sea was not charged, receiving conditional leniency for helping with the investigation.
FDA Amends Temporary Labeling Permit for Tuna
FDA amended Bumble Bee Seafoods' temporary permit to market test canned skinless and boneless chunk salmon packed in water that contains sodium tripolyphosphate to inhibit protein curd formation during retorting. The temporary permit is amended to allow for the canned skinless and boneless chunk salmon packed in water with or without sodium tripolyphosphate and to update the manufacturing location.
Link to Full Notice
.
CBP Proposing Changes to Broker Regulations
CBP is proposing to modernize the custom broker regulations to formalize current practices, including those associated with the transfer of trade functions to CBP's Centers of Excellence and Expertise and adapt regulations to reflect technological advancements such as the creation and implementation of the Automated Commercial Environment. Major changes include switching from a district permit system to a national permit system and increasing the broker license application fee.
AFI Members Get Discounts at Lenovo
Members are reminded of the discounts AFI members receive on Lenovo products.
Information is available at
www.lenovo.com/us/en/lsp
or by calling 1-800-426-7235, ext. 3569 (M-F: 9am-9pm ET, Sat: 9am-6pm ET). Members receive free shipping on all web orders, personalized products and solutions, warranty service upgrades and business financing. Members can also sign up for MyLenovo Rewards and earn rewards for future purchases from everything you purchase through our Lenovo Savings Program.
AFI: Serving the U.S. Food Import Trade Since 1906
Association of Food Industries, Inc. • 3301 Route 66 • Suite 205, Bldg. C • Neptune NJ 07753732-922-3008 • fax 732-922-3590 •
afius.org
•
info@afius.org
Facebook
•
Twitter
•
LinkedIn
•
Instagram
Location - Association of Food Industries
Activities - Association of Food Industries
Producer
Distributor
Service provider
Other classifications (for some countries)
SIC (US 1987) : Real Estate Agents and Managers (6531)
NAICS (US 2012) : Offices of Real Estate Agents and Brokers (531210)