Black Barrier (Car ceramic coating)
- Product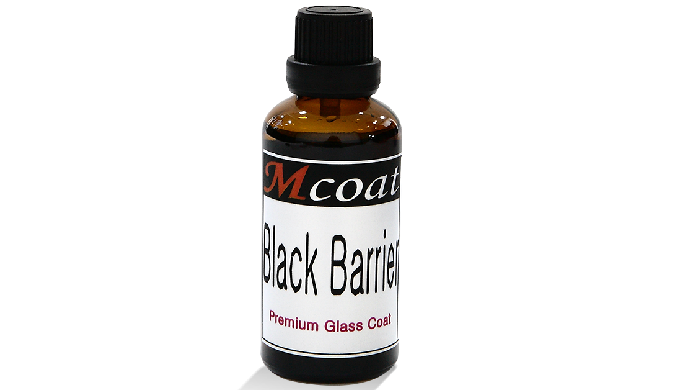 ⦁ Black Barrier_Car ceramic coating Black Barrier / 50ml

It is the strongest and most powerful coating among the company's own automotive ceramic coatings. It forms a 16um coating film when 2 coats, and is specialized in antifouling, durability, chemical resistance, and heat resistance.
It effectively prevents oxi
Description of the Product
⦁ Black Barrier_Car ceramic coating Black Barrier / 50ml

It is the strongest and most powerful coating among the company's own automotive ceramic coatings. It forms a 16um coating film when 2 coats, and is specialized in antifouling, durability, chemical resistance, and heat resistance.
It effectively prevents oxidation of the painted surface from various pollutants such as acid rain and algae secretions and protects the painted surface from various scratches such as fine scratches and daily scratches.
It is a product that does not leave stains due to wet work different from other products, so it is possible to shorten the working time, and it is easy to work even for beginners due to its convenient work.

1. Hardness 9H, can be protected from external scratches.
2. Excellent durability with a duration of 2 years.
3. It is possible to shorten the working time as no stains remain when it is work by wet work different from other products.
4. UV protection, fine scratches, algae secretions, tree sap, etc. can protect the painted surface.

# Technical Detail / Specifications
Size : 3.5*3.5*9.5(cm) / 50ml

# How to use it?
1) Clean car wash
- Remove everything from iron, tar, tree sap, and other contaminants to your little scratch. By car wash removes the oil so that the glass coating is well absorbed by the painted surface of the car.
2) Drying
- Remove water from the painted surface of the car and remove water from the front of the car door, trunk, side mirrors, etc.
3) Coating apply
- Before applying the coating, spray water on the car's surface with water spray (so that the water will not flow down), and then drop about 5 drops on the included applicator and apply in the shape of #.
(Half board works according to the surrounding environment).
* Do not use glass and plastic(except tires)
4. Buffing
-After apply the coating as a ceramic coating work finishing step. After 3~5 minutes, wipe gently with a damp towel. After wiping wipe again with a dry towel, repeat the whole car in this order, work ends!
Price of the Product
Price not indicated
Characteristics of the Product
Model

Black Barrier

Dimension

3.5*3.5*9.5(cm) / 50ml

Brand

Mcoat

Origin

Republic of Korea
Category of the Product
I want to get more details about the product
Company catalogues - MFAM Co., Ltd.