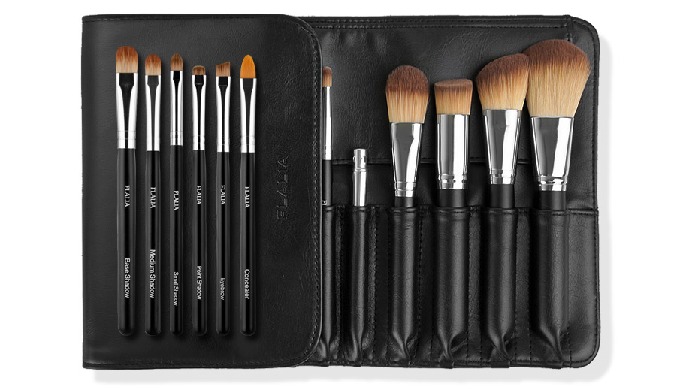 [FLALIA]CLASSICMakeupBrushSet 12 pieces
DETAILS
12 High Quality Synthetic Hair Brushes
The most popular model loved by many professionals and makeup lovers
Improves Makeup Techiniques with various purpose of brushes
Easy to wash and ca
...
Description of the Product
[FLALIA] CLASSIC Makeup Brush Set 12 pieces
DETAILS
12 High Quality Synthetic Hair Brushes
The most popular model loved by many professionals and makeup lovers
Improves Makeup Techiniques with various purpose of brushes
Easy to wash and care / Great for makeup starters
Names are shown on the handles so easy to classify the usage
* All the brushes & pouches can be sold individually, and there are
other sets
including different number of brushes.
MATERIALS
Bristle: Cruelty-Free Premium Synthetic hair
Ferrule: Aluminium / Handle: Wood / Pouch: Synthetic Leather (19cm×15cm)
Model Number: SET-D-029
CONTENTS
1. Face Powder Brush / 16.3cm5. Base Shadow Brush / 15.4cm9. Eyehole Brush / 15.2cm
2. Foundation Brush / 14.8cm6. Medium Shadow Brush / 15.1cm10. Concealer Brush / 15.2cm
3. Cheek Brush / 13.9cm7. Small Shadow Brush / 14.8cm11. Eyebrow Brush / 14.3cm
4. Contour Brush / 14.8cm8. Point Shadow Brush / 14.5cm12. Lip Brush / 17.5cm
* FLALIA's makeup brushes are hand-crafted, so there could be slight errors in size measurement.
If there is any quesition,
feel free to inquire.
We will reply as soon as possible. Thank you! :)
Price of the Product
Price on request
Characteristics of the Product
Type

Makeup Brush Set

Model

SET-D-029

Material

Synthetic Bristles, Wood Handles

Brand

FLALIA
Category of the Product